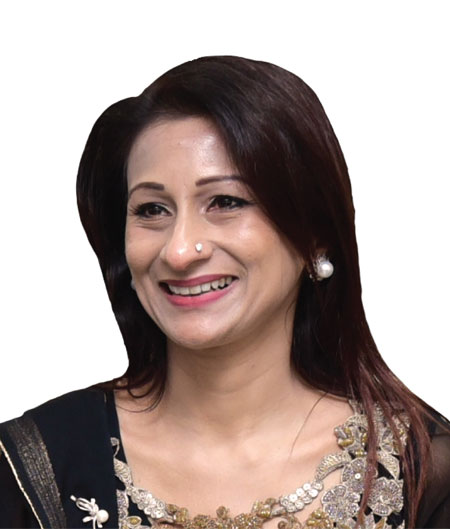 Ms. Simeen Rahman
superadmin
Board of Director, MCCI and Managing Director, Transcraft Ltd.
Simeen Rahman is a Bangladeshi businesswoman and is the Group CEO of Transcom Group and Board Director of its subsidiaries. Transcom is one of the largest and most diversified conglomerates in the country. She presides over all Transcom Group companies with operational and management control.
Group companies include: Eskayef Pharmaceuticals Ltd (one of the leading and fastest growing pharmaceutical manufacturers – formerly SmithKline & French),  Transcom Distribution Co. Ltd. (distribution of pharmaceuticals – Eskayef, Novo Nordisk, Servier, Allergan  and consumer brands – L'Oréal, Garnier, Heinz, Mars, Abbott Nutrition, Energizer, Schick,  Britannia and Zydus Wellness), Transcom Beverages Ltd (sole Bangladesh franchisee of PepsiCo Beverages, USA – Pepsi, 7-Up, Mirinda, Mountain Dew, Evervess, Slice, Aquafina), Mediastar Ltd (Publishers of Prothom Alo, world's largest Bengali news source), Transcom Consumer Products Ltd (first ever PepsiCo Foods Franchisee in the world – salty snacks, Quaker Oats), Transcom Electronics Ltd (distribution of Samsung, Whirlpool, Daikin, Hitachi, Panasonic, Philips and Transtec household appliances), Bangladesh Lamps Ltd (manufacturers of lighting products), Bangladesh Electrical Industries Ltd (manufacturers of Samsung and Transtec TVs), Transcom Foods Ltd (sole franchisee of Yum! Brands' Pizza Hut & KFC), Ayna Broadcasting Corporation Ltd (leading FM Radio Station) and Tea Holdings Ltd.
Simeen Rahman is also a board member of Media World (Publishers of The Daily Star, Bangladesh's largest English Newspaper) and is the Chairperson and Managing Director of Global Appliances Ltd (Whirlpool Corporation and Transcom's joint venture in Bangladesh).
In addition, she is an elected Member of the Executive Committee of the leading trade body of Bangladesh, the Metropolitan Chamber of Commerce & Industry, Dhaka. Ms. Rahman is also an elected Member of the Executive Committee of the International Chamber of Commerce.
Simeen Rahman also serves as the Chairperson of the Faraaz Hossain Foundation.
---